**Disclaimer** The same day I was passed the neighborhood, I totally reinstalled my game. This is due to the blasted Pet Patch and a problem with body shop. So the cut scenes were on so therefore no pictures of certain events. **End Disclaimer**
Ok, so you see what I was given. Francios & Lauren both have their LTW's. Yeah! I won't have to really worry about them, they will be on free will most of the time. What's the worst that can happen? Then we have the engaged Jean-Paul and Demi Love. Romance and knowledge sims, hmm, interesting. Pierre the fortune sim brother. We have the ELDER pet club of Tiffany, Kim, and Hopper. They don't look like elders, but they were right there on the cust of elderhood...trust me. Kim and Hopper grew up on my first day here. Lastly is Juliette, she is the offspring of Tiffany and Hopper.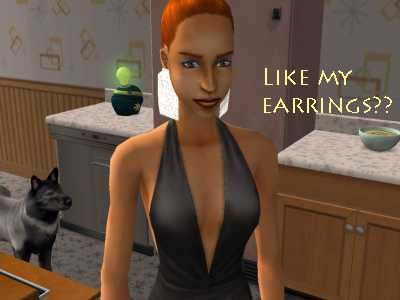 Well, here we are meeting everyone. Lauren here was wearing some price tags for earrings from what I can tell. That's Juliette behind her. She seems to enjoy barking at the refrigerator. I couldn't figure out why at first, but then I see where the pet bowls are nice and empty. Juliette is also

ENEMIES

with both her parents.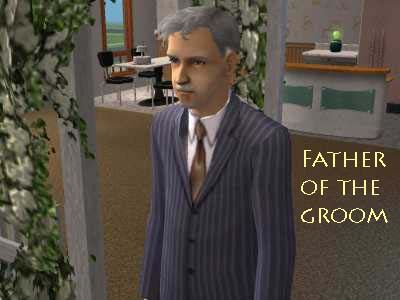 Francios, the man I've been hearing about. Nice to finally meet you. Is that his bar in the background, hmm I think we need to get him some help now. You'll see why soon.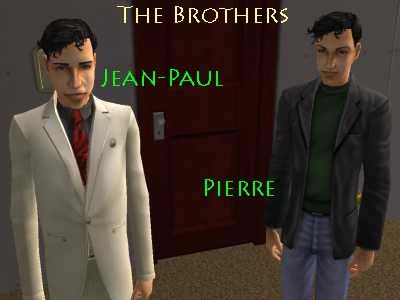 The brothers...they look like brothers. Jean-Paul is the heir elected, but he isn't happy about it. He wants 20 lovers. Pierre wants to be chief of staff, but that isn't important as he has another use here. Sadly, he won't see his LTW.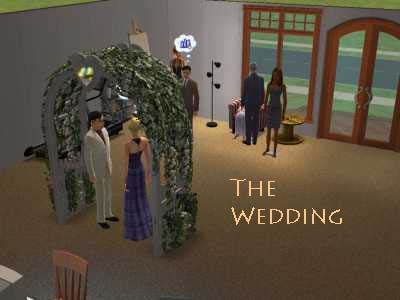 Here we are at the wedding, remember the cut scenes? Yep, this is

THE

wedding picture. No, I don't own Snag-It to capture pictures in game. There was supposed to be a wedding party going on, but there wasn't. The guests were there, but no scenario.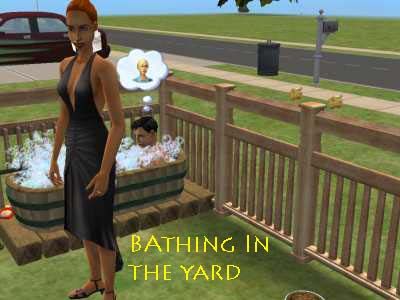 I'm was still just looking around and listening for Jean-Paul's voice. To my surprise, Jean-Paul decides to take a bath in the dog bath in the dog pen with his mom there. Guess it was something she has seen before or if she was shocked about it, I missed it totally.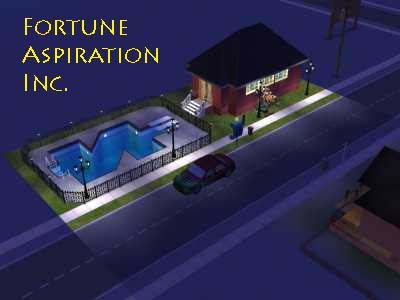 It seems Pierre owned a business. So off we run to get to know Pierre better. First we built an open venue business. The family needs money to build their chateau. I can also hear Pierre now, he wants to turn the vacant lot into a level 10 business for the family.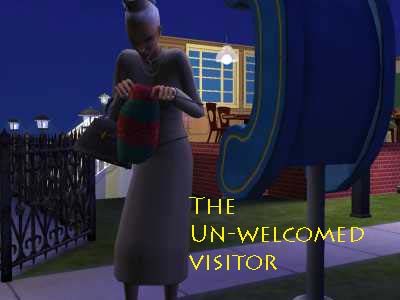 Man, why was this our first visitor? She never left either.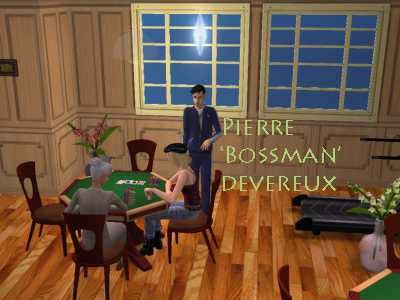 Never left at all. Here we are after getting to level 10. Everyone is gone, but

YOU TWO!!! GO HOME!!!

That is getting ahead of myself.
Pierre worked the guests. Only problem, he couldn't sale to well. So after the business advanced a couple of levels, he didn't want to get that badge anymore.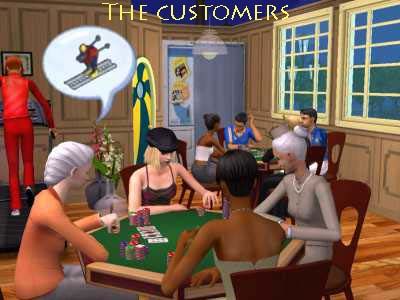 Here we are after earning The

Best of the Best Award

. Yep, there is the unwanted guest right there in front.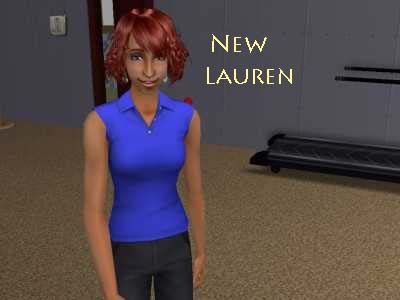 Had to correct those earrings and so I gave Lauren a update. The voices are getting clearer, but are still jumbled up some at the house. Jean-Paul is finally realizing that he can talk to me. Which is good as he will tell you the family story after this post.
The dogs bark at each other all the time. How did they ever have a puppy? It took me some time to realize there were pet bowls outside. I only noticed the bowl inside the house. No wonder they were always barking at me. They were hungry for PANCAKES...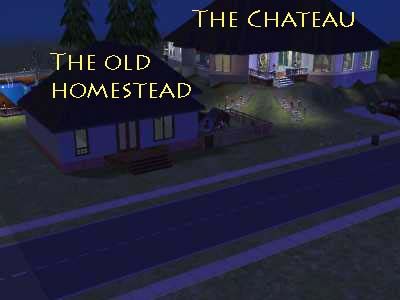 Having the extra cash, we built a new house for the family. The following pictures don't need explanations.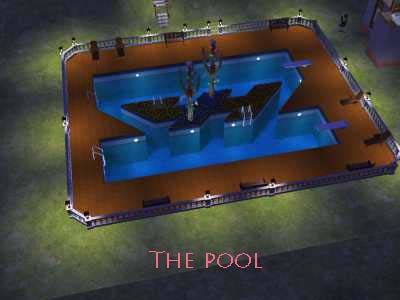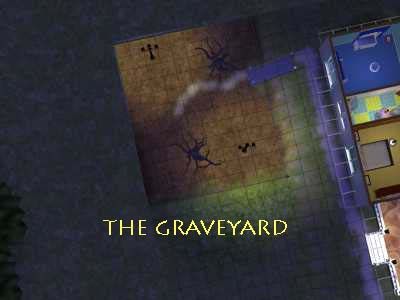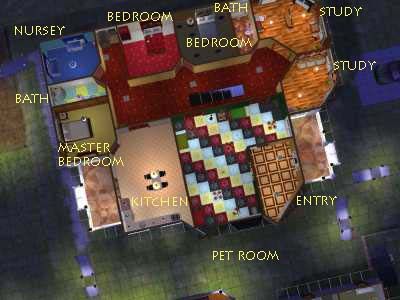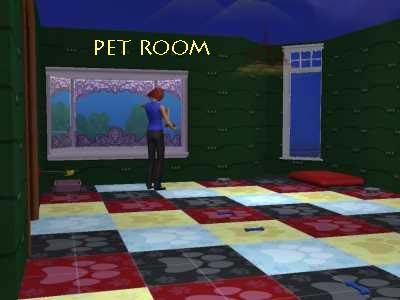 I'm not planning on decorating some of these rooms. I want to see what Wen will do with them. So there is this room...hahaha!!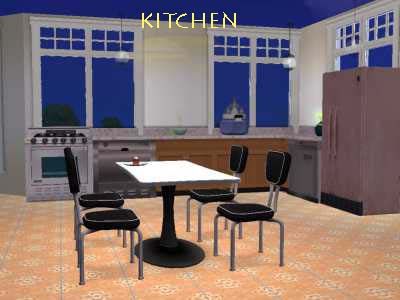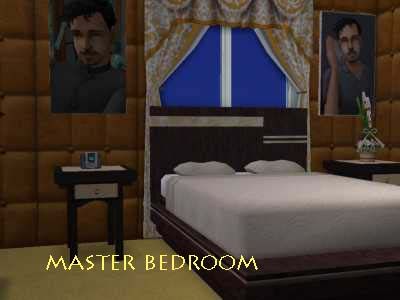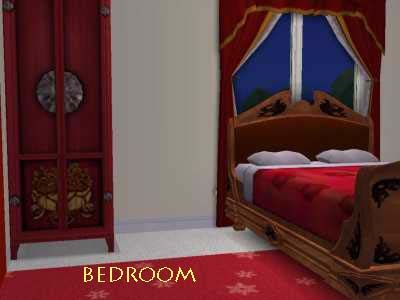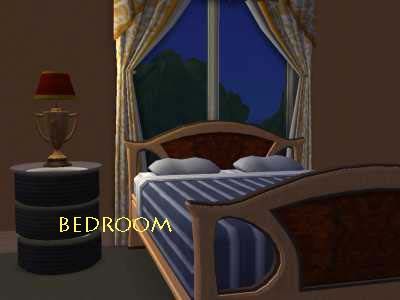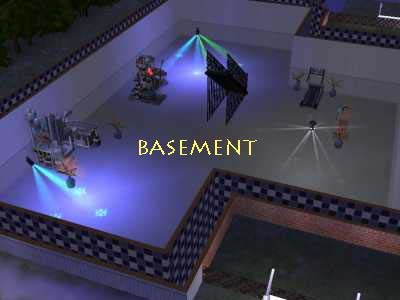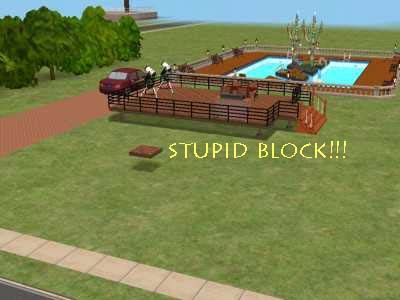 Anyone know why this block won't go away??? There was no light above it to my knowledge. Any ideas? Leave suggestions on how to remove it. There are a few more like it, the others are hidden in the outside deck.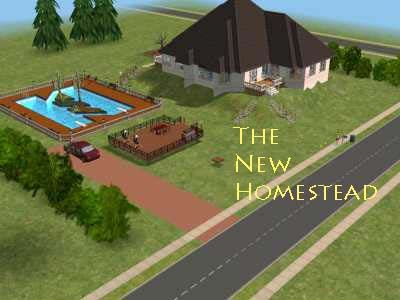 Well, this is the new house and layout. Built by me. :)
Generation 2 Love, Life, and Death